AUTOGRILL: AGAIN CAFE AND AGAIN CIAO
Autogrill S.p.A. is the first operator in the world in catering services for travelers. Present in 30 countries with over 57,000 employees, manages about 4,200 stores in about 1,000 locations and operates mainly within airports, highways and railway stations, with selective presences in cities, shopping centers, in trade fairs, museums and other cultural sites.
After an initial pilot, Autogrill in collaboration with Domec launched the products Again Cafè and Again Ciao, a project of engagement and loyalty aimed at:
Support up-selling and cross-selling actions on different references
Hiring buyers and brand lovers
Increasing the value relationship with its consumers
Enrich the proprietary database with behavioural information useful for subsequent targeted CRM activities
Start the process of digital transformation of your subscriptions
Domec solution to the needs of Autogrill
Domec has made available to Autogrill its many years of experience in the construction of projects and customer loyalty paths. In particular, Autogrill entrusted Domec with the definition of its own "Again cafè" and "Again Ciao" with its reward program.
Again Cafè: the prepaid subscription card that allows the purchase of coffee at a discounted price. The "Again Cafè" ecosystem generated thousands of transactions, selling millions of coffee in advance.
Again Hello: the customer loyalty program based on a free card without any additional cost for its use, which allows the customer to accumulate points for each expense made at the Hello stores (1 point every 15 euros spent) and to receive 10 € to use
ADVANTAGES
Thanks to the adoption of two different types of digital cards and the extremely simple registration procedure developed by Domec, it was possible to allow the customer to dematerialize his physical card, to always know the balance of the card (accumulated points, premiums paid) and the list of transactions carried out.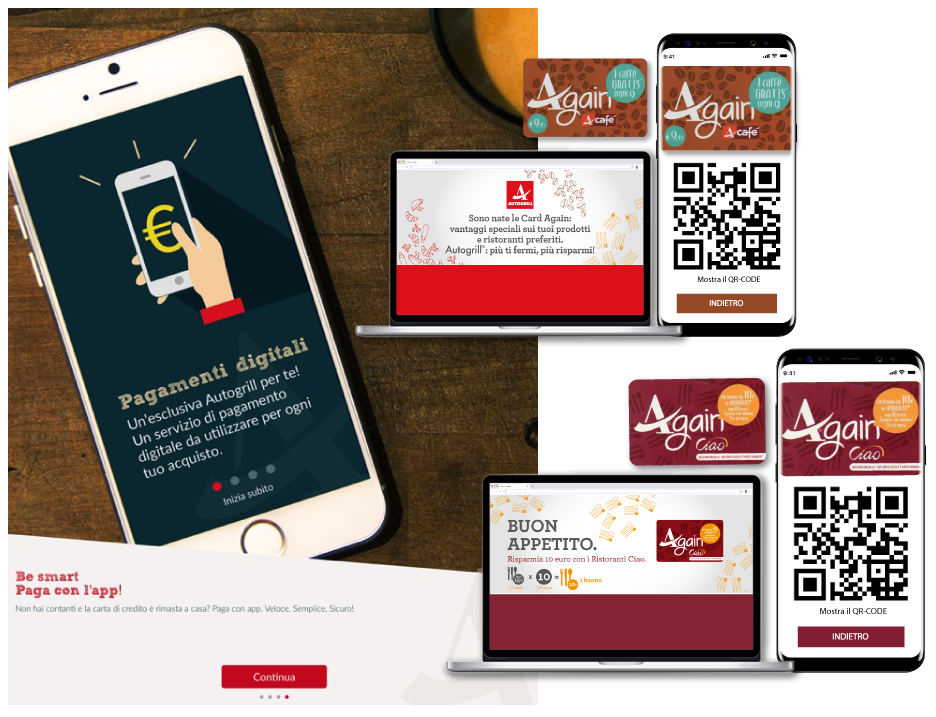 With the support of Domec, Autogrill:
Has developed a loyalty program consistent with its commercial and strategic vision
Has developed a totally customized service
Has improved the loyalty of its customer base
Acquired strategic data and information on its customer base
Has benefited from personalized advice for the implementation of innovative marketing tools and strategies
Contact Us
Contact Us