FLIXBUS: DIGITAL ENGAGEMENT
Launched in 2013, Flixbus is the mobility operator that has changed the way of travelling of a lots of peole, making it accessible and comfortable. Within a few years the German company has experienced an exponential growth, reaching today to offer up to over 100,000 connections with 1,700 destinations in 28 countries.
Flixbus represents a perfect mix of technology, e-commerce and mobility and has managed to assert its innovative business model in a historically fragmented and static market.
The secrets of its great success are related in large part to:
a flexible pricing strategy, allowing travellers to benefit from very advantageous rates;
a state-of-the-art reservation system with mechanisms similar to those of airlines;
high standards of comfort, with spacious seating and free Wi-Fi on board;
safety (traceability via GPS) and sustainability
Domec's solution to the needs of Flixbus:
Flixbus has chosen the technological and commercial structure of Domec for the management and distribution of its Gift Cards, using new digital distribution tools made available to it.
ADVANTAGES:
This allowed the company to enter new sales channels, expand its Customer Base and increase its sales. Specifically, the Flixbus Cards are now sold at over 45,000 Mooney Sisalpay retailers, at Mondarori Store stores, over 600 stores located throughout the country.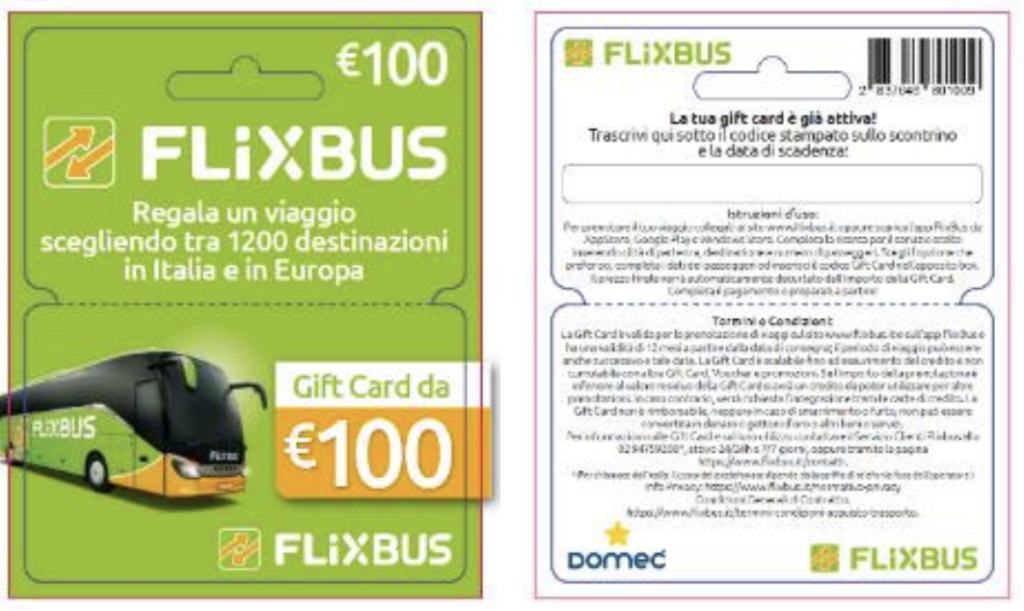 With Domec's help, Flixbus:
Increased sales by entering new channels
Has expanded its Customer Base
Has benefited from personalized advice for the implementation of innovative marketing tools and strategies
CONTACT US
CONTACT US