Fresco Market: Loyalty Payment
Fresco Market is the chain of Italian supermarkets open in the territory of Lazio, Tuscany, Umbria and Marche, born with the mission of bringing to Italy a new possibility of spending focused on freshness, control and origin of products.
The idea of selling in Fresco Market supermarkets is totally Italian and 100% new. From a project of its founder, the supermarket format is based on a deep experience of the food market and on strong and consolidated relationships between entrepreneurs and producers. Fresco Market was created to give a new shopping opportunity: freer and cheaper, but without sacrificing quality.
Fresco Market, it's part of the Tuo Group Brand and has over 150 open supermarkets in central Italy, but it's also present on digital channels with its e-commerce, spesaonline.frescomarket.it and its App.
Domec's solution to the needs of Fresco Market
Fresco Market has chosen Domec's technological and marketing structure to optimize its digital payment services, implement new ones, as the introduction in a new sales channel such as Deliveroo and to rely on the marketing area for the optimization of the part of UX and UI of the new e-commerce portal and the App.
ADVANTAGES:
This has allowed Fresco Market to innovate the current digital payment services available both in its stores and on the online channels, in order to offer the final customer the possibility to pay in a simple and flexible way, through the use of private cards, shopping vouchers and digital wallets.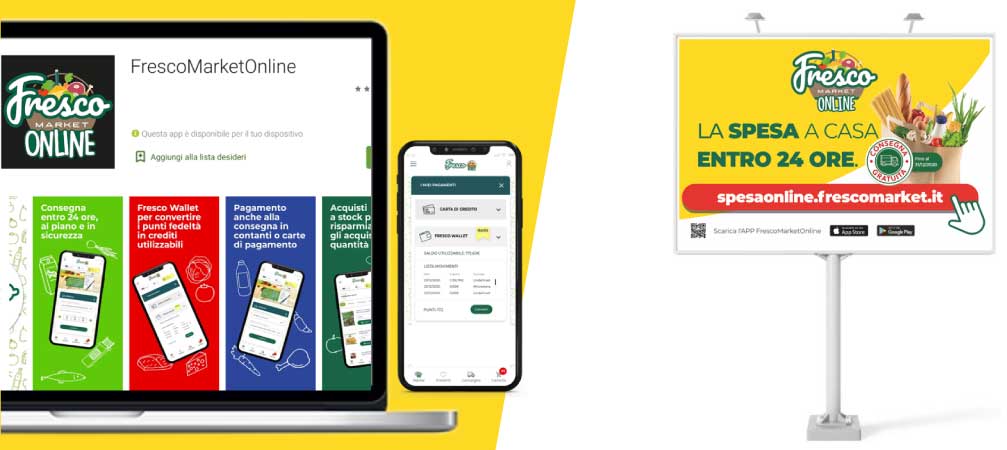 With Domec's help, Fresco Market:
has implemented new digital payment tools
has used personalized advising for the launch of the e-commerce
CONTACT US
CONTACT US