The Territorial Loyalty Program that simplifies and rewards the shopping experience in a well-defined geographical area, such as a district of a city.
Useful to increase the business of parties involved, such as: institutions, local associations and commercial activities within the territory and offer citizens the opportunity to pay digitally, accumulate benefits to be used anywhere in shops taking part in the initiative.
How the solution works
Through the digital tools made available by Domec, the management of the entire Loyalty program is simple and intuitive for both promoters and member stores, while the citizen can accumulate and redeem Cashback on purchases made within the circuit of affiliated stores and view everything directly on the receipt or in the App.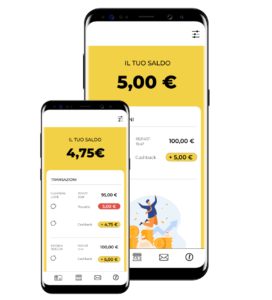 Advantages for the Manager
• Retention of the shops transforming the territory into a real Natural Shopping Center
• Easy to manage thanks to the digital tools made available by Domec, has the visibility of transactions of each store, in order to manage all the compensation, even if it has no skills in the digital field
• Earn on commissions from % of sales at participating shops
Advantages for the shop
• Increase their customer base and increase their average receipt
• Counteract the flight of customers/ citizens to large shopping centers outside the city
• They have a digital loyalty program to their credit without incurring the costs of management and communication
• Cashback Program will be less expensive than a discount system
Benefits for citizens
• Save by buying locally the products and services offered by local shops
• The program has a very simple usage rule: buy, store and redeem.
• Immediately display the accumulation of benefits directly on the receipt or in the App
• They will be able to spend the credit accumulated in any store of the circuit
Contact Us
Contact Us